Hera Pheri is one of the most loved comedy film series of all time. The first movie of the franchise,Hera Pheri, was released in 2000 and the second movie, Phir Hera Pheri, was released in 2006. Both movies are directed by famous Bollywood director Priyadarshan. The movie franchise stars Akshay Kumar, Sunil Shetty and Paresh Rawal in the lead roles.
The performances by Paresh Rawal as Babu Bhaiyaa and Akshay Kumar as Raju and the tongue-in-cheek dialogues of the movie series are popular among the fans. Funny dialogues from the series have been inspiring millions of memes on social media.
Here are the best dialogues from the Hera Pheri series :
QUICK LINKS TO JUMP TO ANY SECTION
Raju (Akshay Kumar) Meme Templates
Babu Bhaiyaa (Paresh Rawal) Meme Templates
Shyam (Suneil Sherry) Meme Templates
Pappu (Rajpal Yadav) Meme Templates
Munnabhai (Johny Lever) Meme Templates
Kachra Seth (Manoj Joshi) Meme Templates
Sharat Saxena As Tiwari Meme Templates
Nanjibhai (Milind Gunaji) Meme Templates
Khadak Singh (Om Puri) Meme Templates
Kiku Sharda As Kanji (Kiku Sharda) Meme Templates
Akshay Kumar As Raju Meme Templates
Bhagwan se to daro
Ye bhedbhav kyu
25 din mein paisa double
SAVE WATER DRINK BEER
Mujhe interest hai bahut interest hai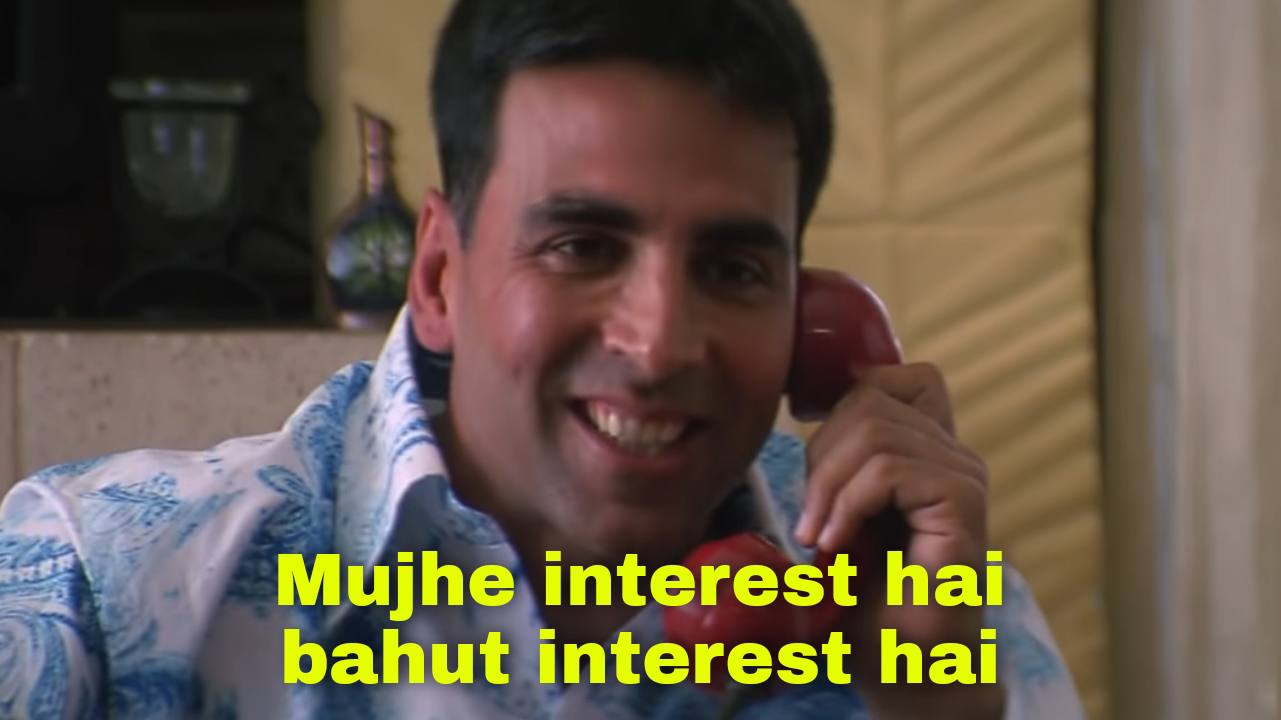 Ab aaya na line pe
Itni jaldi kya hai kar denge aaram se
Aaja, aaja beta aaja
Aap mere personal maamalo ke beech mat aana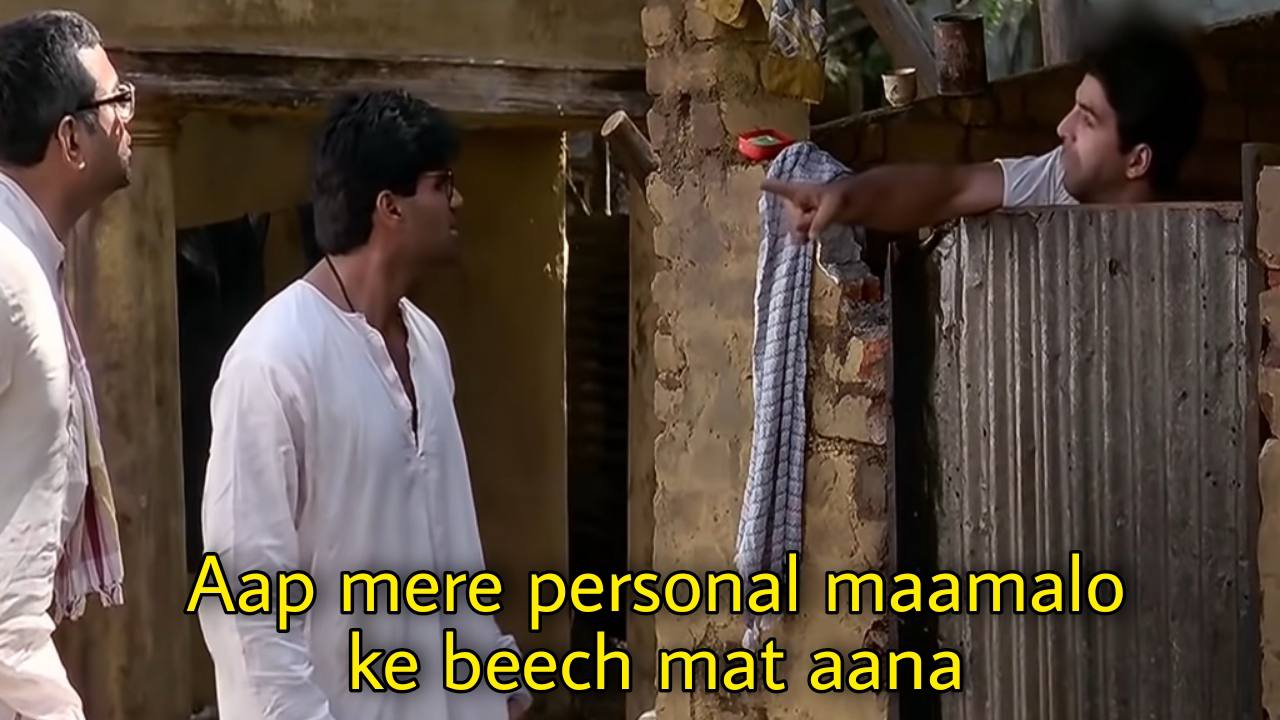 Pressure aa gaya, pressure aa gaya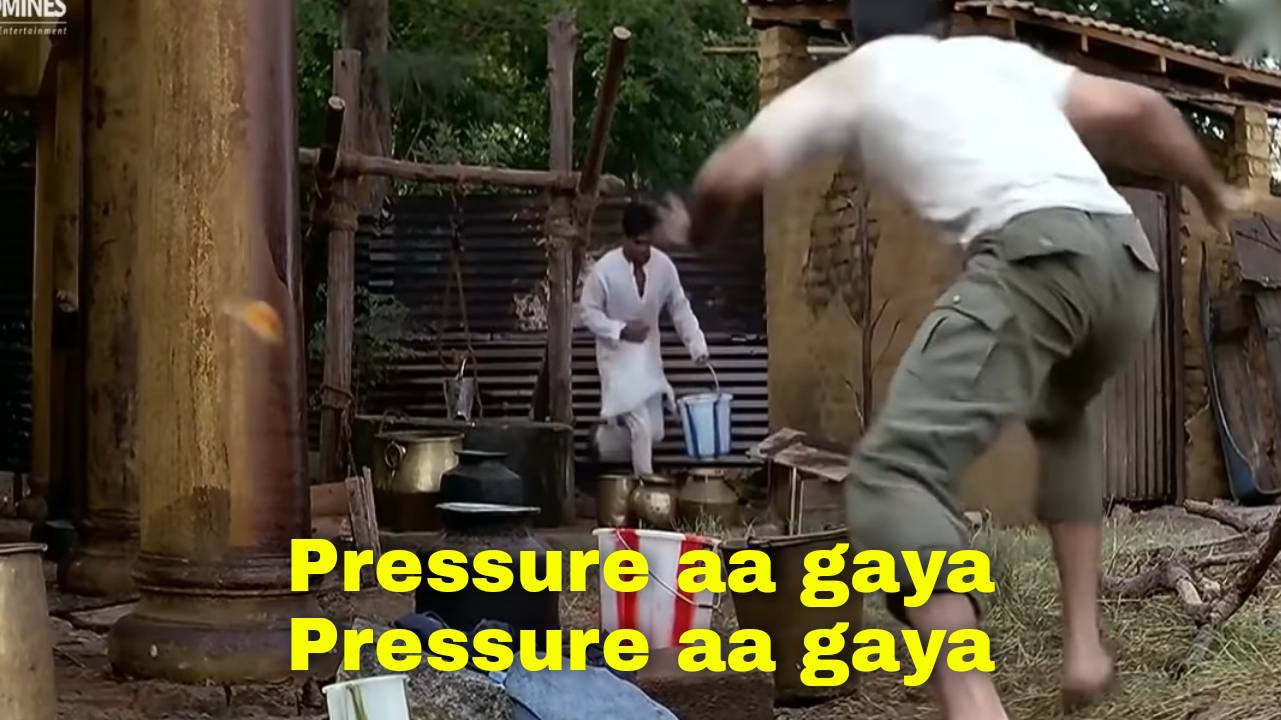 Kuch sunaai nahi de raha zara zor se boliye
Meri kundali mein ek khoon likha hai maloom hai na
Main dastakhat karne ko taiyaar hoon
Raju Waiting
Raju and Shyam running after Munnabhai
Paisa hi paisa hoga
Inke haath mein sone ka katora dedo phir bhi ye bheek maangenge
Abe mereko to andar lo
O sarak sarak udhar
Raju And Shyam Meme Template
Paisa Laya
Jor jor se bolke sabko scheme bata de
Tu ja yaha se, ye scheme tere liye hai hi nahi
Aee, itna andhera kyu hai bhai ?
50 rupya kaat overacting ka
Yeh kaafi difficult course hai, kaafi kam log kar paate hai
Plastic Surgery ka naam suna hai
Beta ek zamana tha jab hum bhi gareeb hua karte the
Arey mujhe chakkar aane laga hai
Amir bano amir ye garibon wali aadat kab chhodoge
Paresh Rawal As Babu Bhaiyaa Meme Templates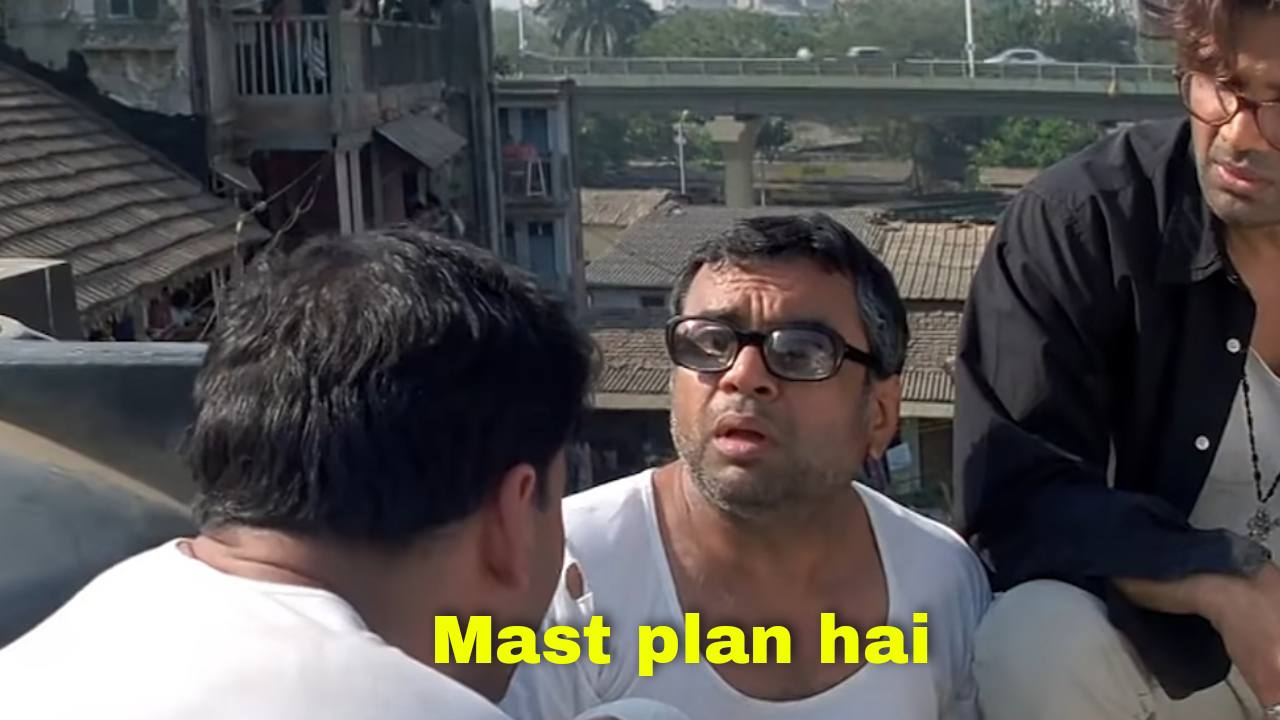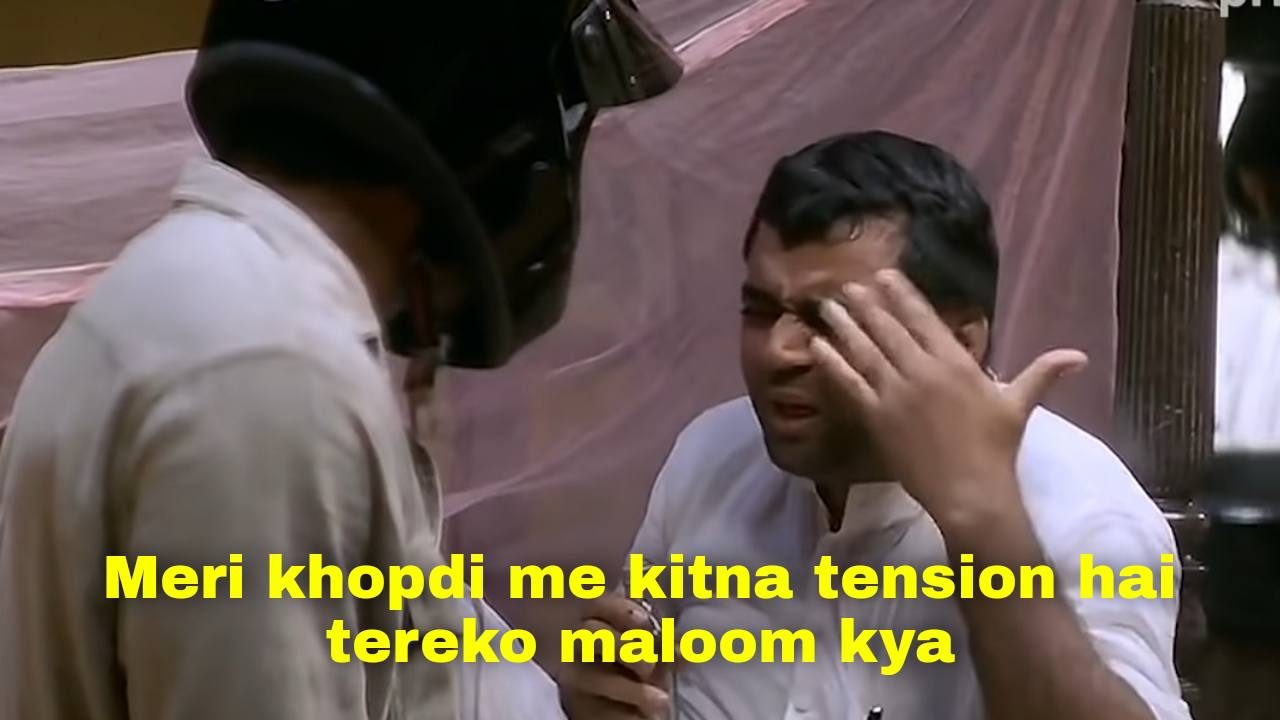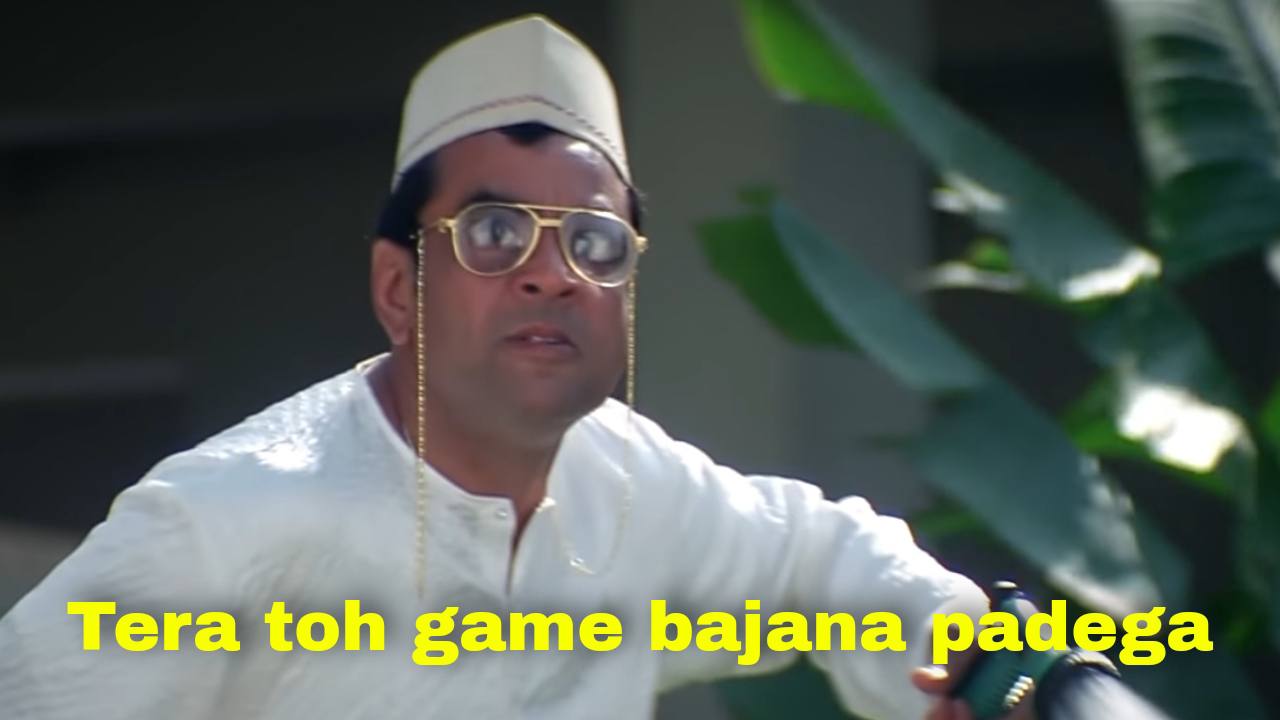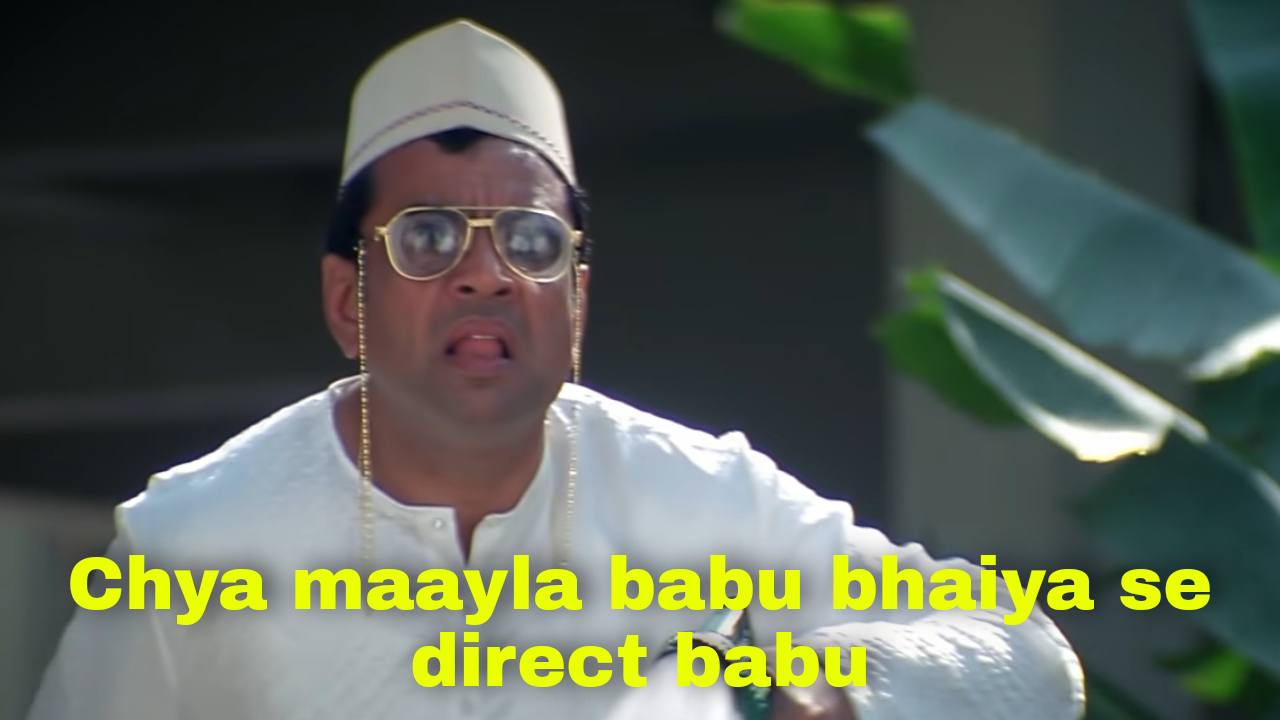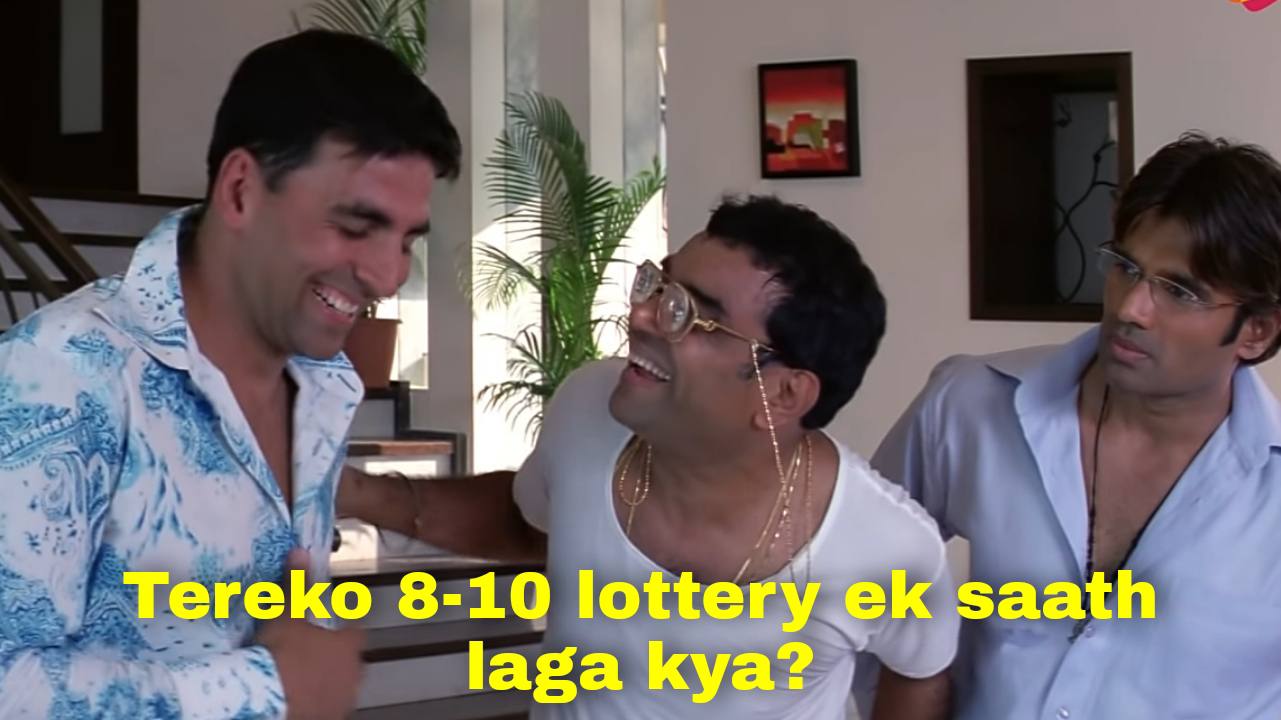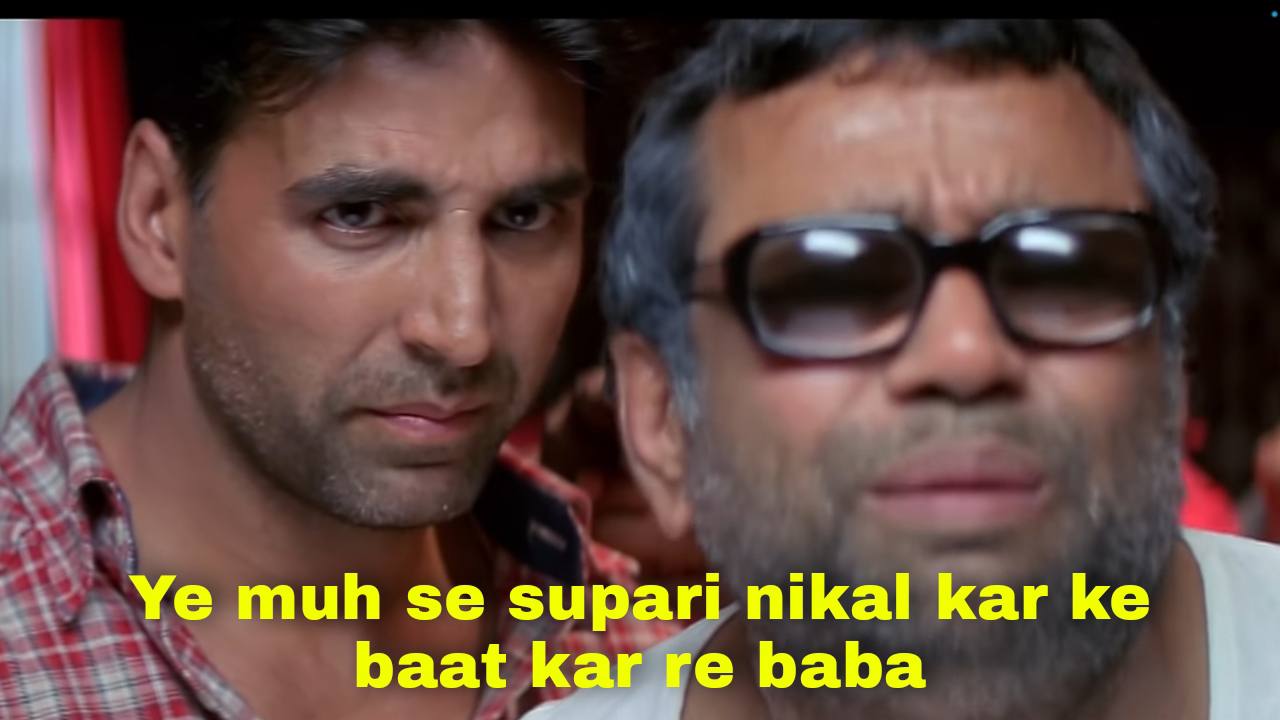 Aye tu sign kar re baba
To sikhna padega
Tumko gaana gana aata hai
Chi chi sabere sabere mereko yahi dekhne ka hai kya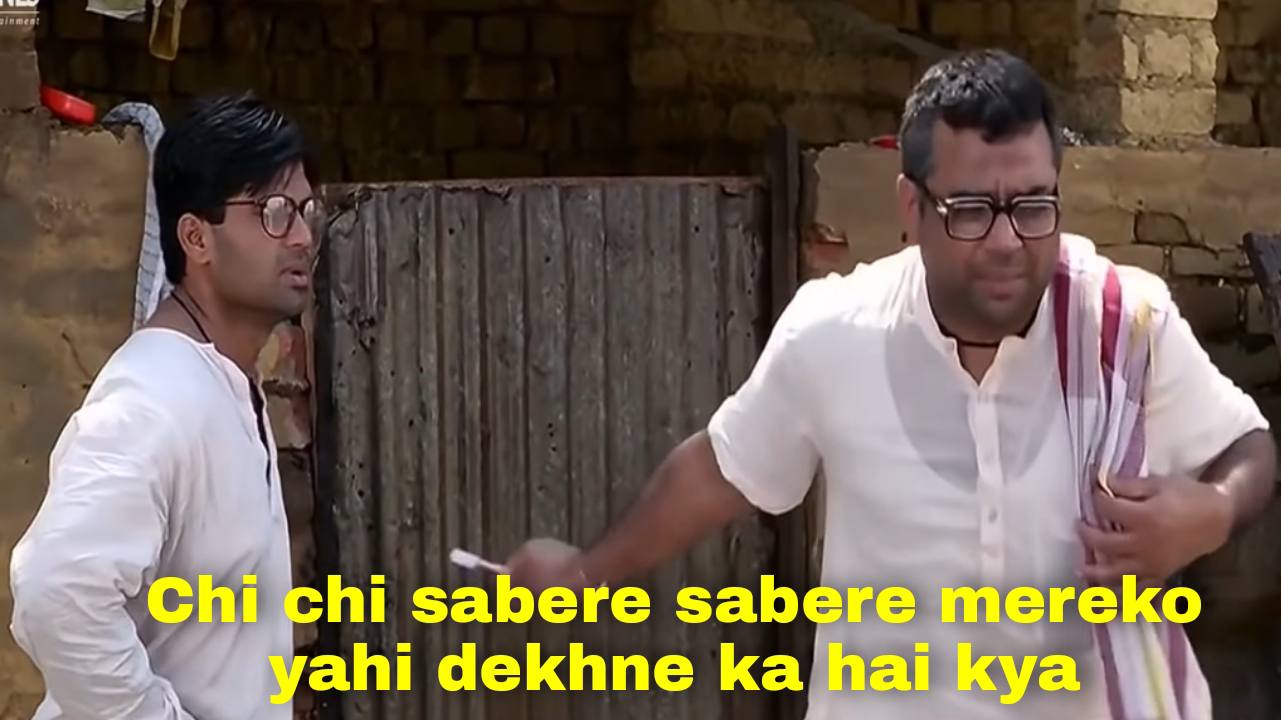 Arre kaay re mandali
Daaru nahi re baba dawaii hai
Ab main tumko apna croreon ka khazaana dikhaata hoon
Bilkul risks ne lene ka
Rakh… rakh teri maa ki
Saala merko itna chota diya
Tera wajah se mera atmahatya karne ka time aa gayala hai
Aja tujhe sandas dikhata hu
To sabko dikhana padega na
Ye Baburao ka style hai
Khopdi tod saale ka
Merko to esa dhak dhak horela hai
Tere paas koi or raasta hai
Lgta h… kisi dusre k kholi m aa gaya
Suniel Shetty As Shyam Meme Templates
Aye chup bey
Aap bujurg hai aap andar chaliye
Main iss paap ka bojh aur nahi bardasht kar sakta
Mujhe jald hi bohot saare paise milne waale hain
Kya tumhein mujh par zara bhi vishwaas nahi
Toh jaa kar police station mein bata na
Shyam Mocking Raju
Yeh kya behooda harkat hai
Johny Lever As Munna Bhai Meme Templates
Abhi main tereko phod dalunga
Maal Kidhar Hai
Abhi maza ayega na bhidu
Aye yede tere baap ka shaadi hai kya re?
Manoj Joshi As Kachra Seth Meme Templates
Ye mera samsoong ka number hai
150 rupaiya dega
To japan ke chor bazar mein jaake bech
Aaaaahhhh, kadak hai
Pehle tu de
Main jeb me leke thodi ghumta hun
Rajpal Yadav As Pappu Meme Templates
Raju bhai mai aa gaya
Hey bhagwan teri leela aparampar hai
Arey haath mat laga mere bhai ko
Arey pehle batana chahiye tha na
Phir apna kaam khallas
Bhai paisa ho to kya kuch nai ho sakta
Saale ko bum se uda dunga
Nakli note chapne ka dhanda hai kya
Milind Gunaji As Nanjibhai Meme Templates
Saaley mera hi maal chura kar mujhe bech raha hai
Sharat Saxena As Tiwari Meme Templates
Abe jaata kaha hai saale
Mera 20 lakh rupaya kidhar hai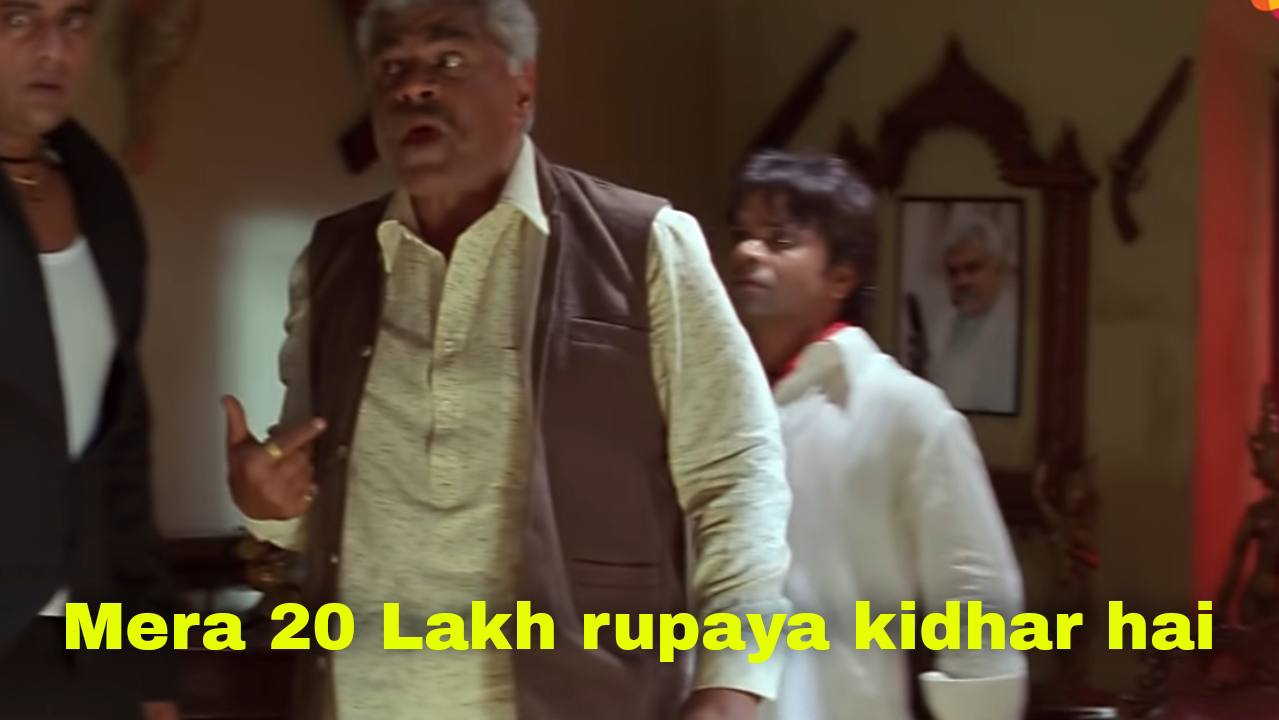 Chup chup chup bilkul chup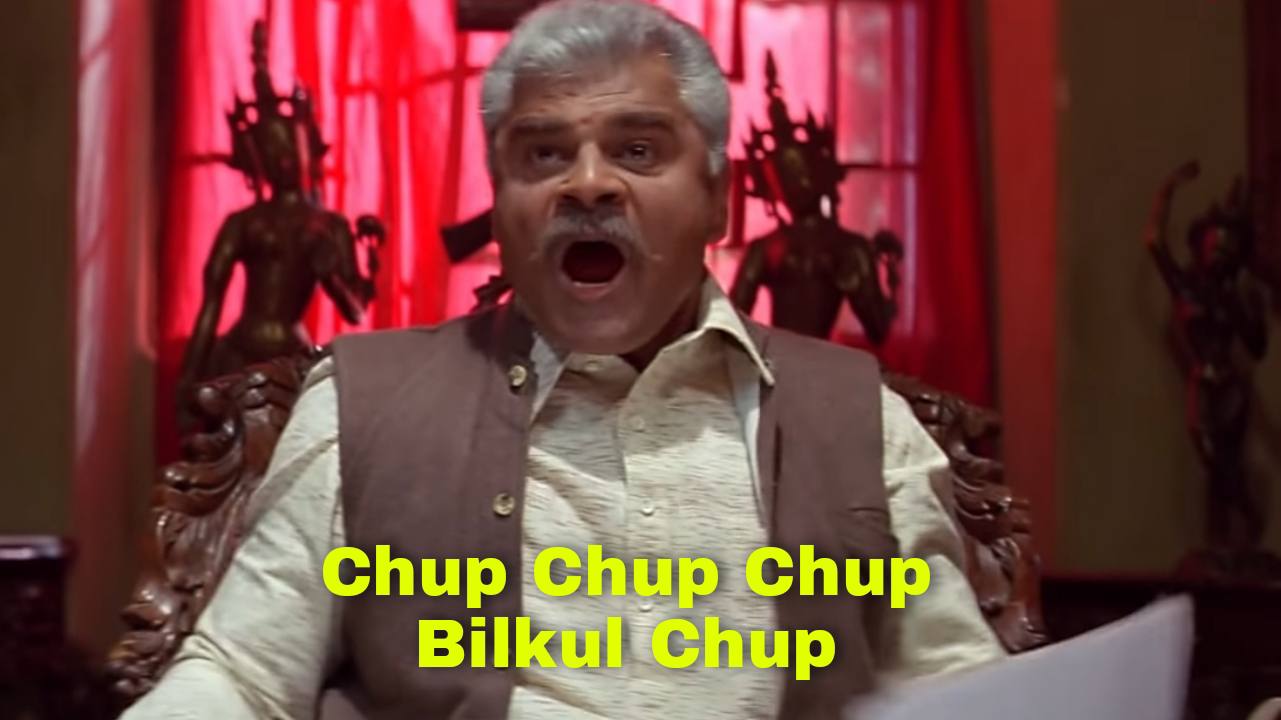 Tiliyal bol tiliyal
Abee tu meri nakal karta hai
Om Puri As Khadak Singh Meme Templates
Ab milta hi nahi hai, pata nahi kaha hai
khadak Singh Running With Swords
Kiku Sharda As Kanji Meme Templates
Bhai aapka knowledge toh kamaal ka hai bhai